Live at K 2019!
Cold Jet held live dry ice blasting demonstrations and introduced our new, revolutionary machines, the PCS 60 and PLT 60
Dry ice blasting is used heavily in the plastics industry to clean molds, deflash and deburr parts and for surface preparation prior to painting.
The process is an environmentally responsible and non-abrasive alternative to traditional cleaning methods. It is a faster and more effective process that does not produce secondary waste. The process allows for molds to be cleaned in-place, eliminates painstaking manual cleaning and reduce production downtime.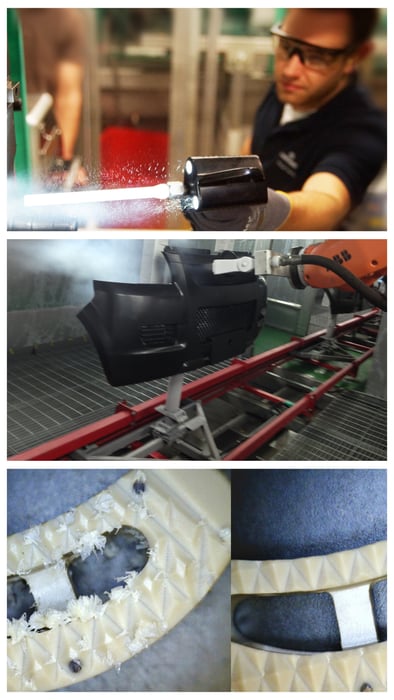 Key benefits of dry ice blasting include:
Improve product quality
Clean in-place - Little to no disassembly required
Non-abrasive - No damage to molds
Reduce scrap - Cleaner molds lead to higher quality
Reduce production downtime
Clean quicker and without cooldown
Decrease cleaning time and labor costs
Eliminate painstaking manual cleaning
Typical applications in the plastics industry include:
Compression Molds
Extrusion Molds
Injection Molds
Blow Molds
Thermoform Molds
Plastic Injection Screw Barrels
Urethane Molds and Overspill
Plate out
Off gassing
De-flashing and surface /parting line vents
Gloss leveling


Watch our video to learn more about applications in the plastics industry:
The new standard in dry ice blasting
The Aero2 PCS® 60
Enhanced for the Power of Choice.
The PCS 60 features Cold Jet's patented Particle Control System™ (PCS). The PCS precisely cuts dry ice into diamond shaped particles in the exact dimensions chosen by the operator (3mm to 0.3mm and 28 sizes in between). This allows the user to have a greater degree of versatility in their cleaning applications.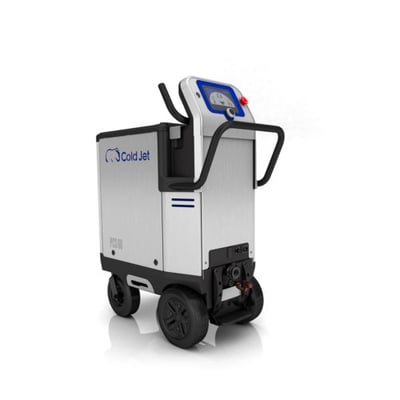 With the PCS, a plastics processor can use one machine to clean many types of surfaces, such as the surface of injection molds, deburring and deflashing, to cleaning injection screws. Previously, a facility would need multiple machines with different aggression level capabilities to clean each.
The machine also features programmable and password-protected application recipes. This feature allows users to set and save blasting parameters, such as blast pressure, particle size and feed rate. A plastics processor can save one application recipe for one of their molds and another application recipe for a separate mold. This prevents user error and ensures the right parameters are used for each unique application.
The PCS 60 is IoT enabled via Cold Jet's Industry 4.0 solution, Cold Jet CONNECT®. The system provides remote monitoring and diagnostics while allowing users to collect and manage data and employ tools for optimum performance and productivity. The PCS 60 brings Industry 4.0 capabilities to dry ice blasting for the first time. The machine is also automation and integration capable via an optional accessory package, which enables the PCS 60 to be combined with a Cold Jet dry ice production unit and a robot for continuous and fully automated blasting.
The Aero2 PLT® 60
Designed for Power.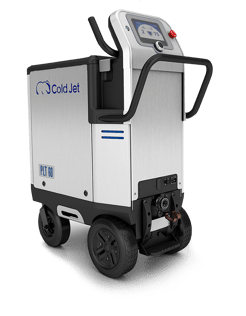 Building upon the groundbreaking Aero2 technology, the PLT 60 is designed for applications that require more aggression. With PLT machines, you can blast with up to 250 PSI (17.2 bar) of pressure using proprietary nozzles that are optimized for high performance.
The PLT 60 utilizes Aero advancements that enable the machines to be the most efficient dry ice blasters available. With a 'straight through' air system and redesigned SureFlow™ feeding system, air pressure loss and dry ice sublimation are minimized within the machine. This allows the user to maximize air supply yield and reduce dry ice waste.
With a 7" LCD screen and digital controls, the PLT 60 provides an intuitive display that allows the user to easily view and adjust blasting parameters and machine settings. The machine also features programmable application recipes, which allows users to set and save blasting parameters, such as blast pressure and feed rate.
The PLT 60 is IoT enabled via Cold Jet's Industry 4.0 solution, Cold Jet CONNECT™. The system provides remote monitoring and diagnostics.

Live demonstrations at the Cold Jet booth
At our booth (hall 10/booth 10D48), we demonstrated our dry ice cleaning and surface preparation! You saw how dry ice is also used for deburring and deflashing of plastic parts and for preparing parts before painting or gluing.
You challengee us by bringing your own samples to our booth for cleaning! We accepted the challenge and will blasted your tool LIVE on site.