Dry ice for vaccine transport and cooling
Optimize your dry ice production capacity for vaccine distribution
The COVID-19 Vaccine Presents New Challenges in Transportation and Storage
Some COVID-19 vaccines require storage and shipping at about -70°C ±10°C (-94°F ±14°F). This means that one of the biggest challenges for vaccine distribution is to store and ship a new COVID-19 vaccine when and wherever needed. To be able to respond to all issues linked to the transport cooling of pharmaceuticals, all major shipping and distribution companies have to create "ultra-low temperature cold chain" plans, in order to keep the vaccines below sub-zero temperatures. Currently, the existing refrigerated transport infrastructure and supply chain is not prepared to handle shipments with these low temperatures.
That is why at all points in the vaccine transportation and distribution cold chain, dry ice is needed to maintain temperature. Dry ice (solid carbon dioxide, CO2) sublimates without creating any waste or residue, making it the perfect refrigerating medium during the shipment of vaccines.
Unique Requirements of the COVID-19 Vaccine
An American multinational pharmaceutical corporation said their vaccine must be stored at-70°C ±10°C (-94°F ±14°F) for up to six months or in specially designed shipping containers ("soft-boxes") for a shorter period. The reason why the use of frozen vaccines is recommended, is because of their long-term stability and resulting shelf life. Once removed from the containers, the vaccine can be kept unfrozen for one day at 2-8 °C or for a limited time at room temperature. This means re-icing will be an important process to keep the vaccines at the right temperature before use. The vaccine may have already been in transit several hours and or days (via airway or road transport) before they arrive at the vaccination centers, public and mobile clinics, hospitals, and pharmacies.
Where Dry Ice Fits In
It is crucial that pharmaceutical companies utilize the correct volume and format of dry ice. During refrigerated vaccine transport, it is recommended to use 10 mm dry ice nuggets to ensure a correct storage and shipment of the vaccines. This is where Cold Jet makes a difference! Our Pelletizers and Dry Ice Production Hub enable you to respond immediately to new dry ice capacity needs, offering the ideal size of dry ice at any possible location.
Upgrade your dry ice production equipment
Our Cold Jet technology also allows you to upgrade your current Pelletizer to a system capable of producing the right format of dry ice nuggets needed for the transportation of vaccines: 10 mm dry ice nuggets!

This easy upgrade to your current dry ice production system will allow you to respond to this growing demand without having to invest heavily in new machinery and equipment. Another advantage of this easy and quick upgrade, is that it is possible for you to upgrade your Pelletizer yourself. Our Service team is 24/7 available and will provide you with the right information and instructions.
Choose the right Cold Jet Pelletizer for your production needs
Cold Jet's High-Efficiency Line of Pelletizers enables you to produce fresh, high-quality dry ice on demand and offers you the lowest liquid to solid CO2 conversion factor on the market.
With minimal space requirements the PR120H is the end user's answer for producing up to 120 kg an hour of high quality dry ice pellets and nuggets on demand. Thanks to an advanced purge and CO2 injection technology, the PR120H offers a fast start-up time. The PR350H presents a state of the art dry ice Pelletizer, built on the latest technical advantages and packed with features for easier operation, swift production shifts, and high capacity. The automatic change of extruder plates also removes downtime and reduces loss of valuable CO2. It is capable of producing up to 350 kg of high quality dry ice pellets and nuggets, secured by the closed chamber technology.
Both systems can be delivered with a 10 ft High Cube ISO Transportable Container to extend your production capacity anytime, anywhere. The system is a mobile solution and is ready to use by supplying electrical power, liquid CO2, and instrumental air. With low ownership and maintenance costs, you can supply fresh, high quality dry ice on demand.
Ensure continuous dry ice production

Cold Jet offers the most advanced dry ice manufacturing systems with superior quality, coupled with 24/7 production capability, and worldwide customer support. Cold Jet Connect enables us to assist you with your dry ice production and our Service team to deliver quick support and diagnostics.
They enable a real-time monitoring of your production systems, from any computer with internet access, and from anywhere in the world. This allows you to easily consult operating manuals, available via a 7 to 15" touchscreen display and intelligent control.
Achieve the ultimate in efficiency, productivity, and uptime via our 24/7 full telemetry support. Our dry ice production systems are fully integrated smart machines, equipped with an embedded PC with complete OS for easy integration to production control systems, dynamic monitoring, and full bios via the web.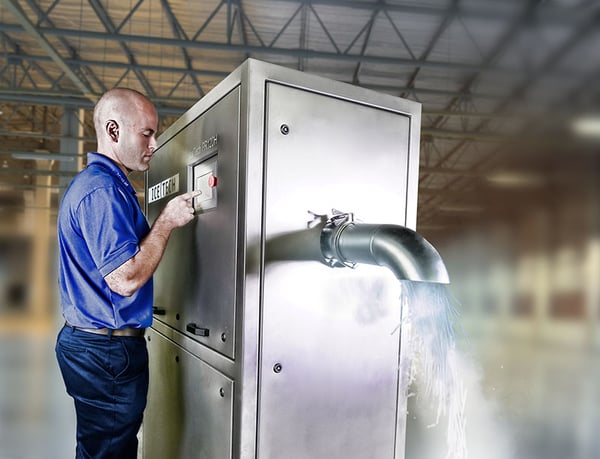 Why Cold Jet?
We carefully evaluate customer's conditions regarding dry ice production and advise the optimum solution based on their needs and expectations. Cold Jet manufacturing systems are now the choice of all the major dry ice producers in the Americas, Europe, and Asia. Our dry ice manufacturing systems are preferred by the world's largest industrial gas companies and heavy dry ice users.
Cold Jet benefits:
Highest quality extruded dry ice
Lowest liquid to solid CO2 conversion factor on the market
Various delivery options, including turn-key
Patented dry ice technologies
Best output to footprint ratio available
Best consultancy about dry ice technology
Diverse applications fit for you:
Airline Catering

Cold Chain Management

Food Processing Cooling


Why produce?

Efficient for complex scheduling needs

Eliminate dry ice waste

Control over dry ice availability, quality and cost
Remote monitoring
No residue or water

Why produce?

Maximum efficiency and cost effectiveness

Greater efficiency in last mile delivery

3x the refrigeration water power of ice

No harm to cooling media

Why produce?

Food grade media - FDA, USDA and EPA approved
Control and maintain temperature
Impede bacteria growth and reduce spoilage
Increase flexibility

Learn more
Learn more
Learn more
See our machine portfolio:
Stories from the Field
Real machines produce real results.
Learn how companies have transformed their technique by choosing dry ice production.
| | | |
| --- | --- | --- |
| | | |
| Industrial gas company meets customers' needs for dry ice | Automotive supplier produces high quality dry ice for dry ice cleaning process | Welding supply company finds success in producing and distributing dry ice |
| Read more | Read more | Read more |
Vaccine Transportation & Cooling FAQs
Why is Dry Ice in High Demand?
Some COVID-19 vaccines require storage and shipping at low temperatures (-70°C ±10°C (-94°F ±14°F)). This means that distribution and storage of the vaccine is a major challenge to both transportation and healthcare industries. In order to handle the transportation, all major shipping and distribution companies must create "ultra-low temperature cold chain" plans. Currently, the existing infrastructure is not capable of handling shipments at such low temperatures. Thus, companies worldwide are turning to dry ice as the solution for cold storage and cold chain management, resulting in a high demand for dry ice.
Is there a Dry Ice Shortage?
As a result of the high demand for dry ice, there has been a resulting dry ice shortage. Due to the pandemic, not only is the vaccine transportation requirements causing an increase in demand for dry ice, but an increase in food shipments and delivery as well.
What are my options for improved dry ice production for vaccine transport and cooling?
There are several options for improving dry ice production. First, you could upgrade your current dry ice production equipment so that it is equipped to produce the right format of dry ice nuggets needed for the transportation of vaccines: 10 mm dry ice nuggets.
Another option would be to upgrade to an entirely new production system. Cold Jet offers both new and used dry ice production machines like our High-Efficiency Line which includes the PR120H, PR350H, and PR750H for various production rates. We also offer a Continuous Operation Line for 24/7 dry ice production capability, the Dry Ice Production Hub for temporary dry ice production in remote or difficult to reach sites, and Metering Systems for producing dry ice in pre-programmed amounts directly into packaging containers.
Why should I choose Cold Jet?
Cold Jet is a global leader in dry ice production technology. Our equipment has been engineered to extrude the highest quality dry ice available. Due to our proprietary knowledge of dry ice, our process creates a longer shelf life, improved transportability, and offers advanced performance. Our solutions achieve the lowest conversion factor on the market, which is 10% better than traditional pelletizers. Want to learn more? Click here.
Ready to take the next step?
Call or email us for more information or if you would like to speak with your local representative.
Email: vaccine@coldjet.com
Call: +32 13 53 95 47